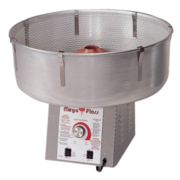 Cotton Candy Machine

Outlets: 1- 15 amp outlet
Spin up the FUN @ your next party with one of our commercial cotton candy machines!
Electrical Requirements:
-This machine requires 10.4 amps to run properly. Use a dedicated 15 or 20 amp outlet. Or add-on a small 3500 watt generator which can be found on our "Special/ Misc. Equipment" page.
-Uses 1250 wa